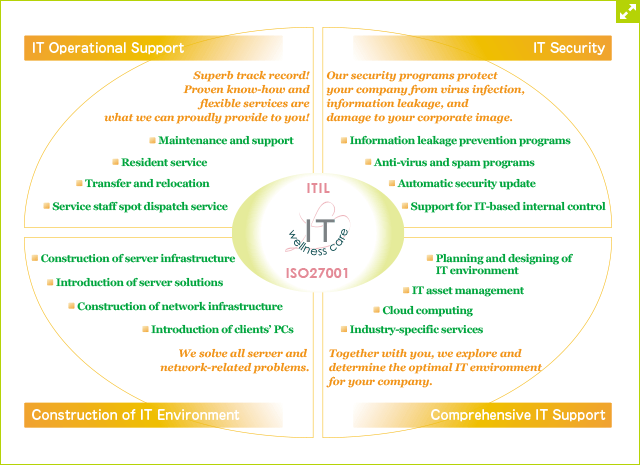 It means not to act after problems or failures have arisen but to act before "potential factors that disrupt the use of IT" will arise through day-to-day care and set in place an IT environment that can be used by customers comfortably and free from worry.
This is the "IT wellness care" service provided by GFC.
We provide support to everything from the introduction to the operation of IT-related operations. Please feel free to contact us for more information.
* IT wellness care is the name of the service GFC provides and is also the name of the GFC Service Division.
Becoming well aware of customers' IT environments.
Realizing customers' businesses and what IT is specifically used by these customers.
Coping proactively as an IT professional with possible problems or potential failures that may disrupt IT utilization.
Continuing to provide customers with comfortable service and support as required by customers.
What is
"wellness"?
It is a term often found in healthcare-related fields,
which means "physical health that can be achieved via daily effort."
'Its concept is "to maintain" fitness by reducing the frequency of becoming ill through daily effort and attention.'
We believe the same applies to the IT service GFC provides by.
GFC will serve you as your company's IT consultant or advisor. For example, there is a certified public accountant for financial matters and a licensed tax accountant for tax matters, and a certified social insurance labor consultant for labor matters. IT is no exception and you need an IT expert.
You want to make the most of IT in your operations.
You would like to have advice about your in-house IT system.
Or maybe you think you do not need IT…But are you really sure?
There are many things that IT can solve, such as the enhancement of operational efficiency and the management of operations. Please contact GFC now!
As an IT consultant and adviser, we will put forward the best proposal for your company.
Please feel free to contact us.